Renaturing for creating of a climate and und staff-friendly industrial complex in Vienna, situated between to motorways (A2 und A23) in participation and with co-design methods
Involvement of companys' staff and intern experts (of green management) in decision-making by vegetation and functional concept of greening project, according to corparate greening policy.
Participation of users of the areal, the members of staff, both in care and in maintenance: by involving of individuals' wishes increase willingsness for a cooperation, also for the future.
Inclusive Planning: Participative co-design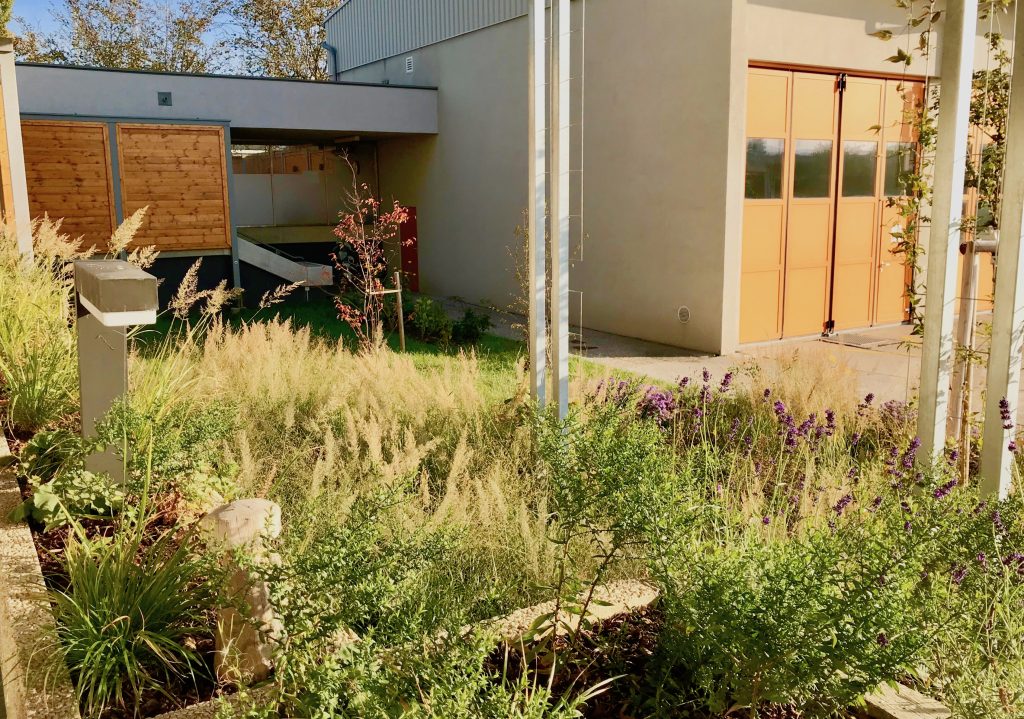 Microclimate and Ecological improvent
Improvement of the microclimate conditions of the industrial complex and in its surrounding area
Improvement of indoor air quality for staff member, using offices and workshop facilities of ABM-complex, decreasing the emissions and noise pollution of very busy autobahn runing from the both sides.
noise pollution and traffic emissions
Reduction of coool energy consume
Reduction of cooling energy consumption through unsealing (removal of asphalt surfaces) for greening of surrounding areas using the natural shading by trees and vertical greening
Decreasing of urban heat island (UHI) phenomenon in hot summer periods by the use of evaporative cooling from plants and the protection of global radiation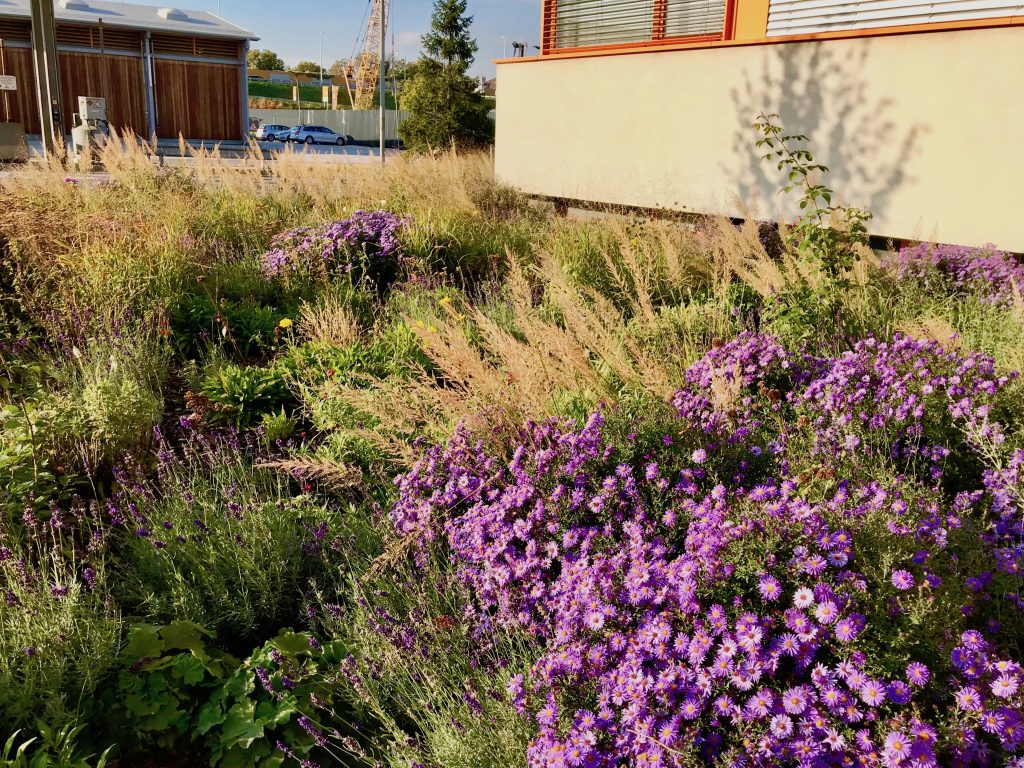 Rain water regulation
– Mitigation of impacts extrem weather conditions
– Infiltration of rainwater, relieving the burden on sewage systems and reducing the risk of flooding during extreme weather conditions
Low-tech and low-cost implementation
– Affordable implementation of greening measures through low-tech and low cost methods:
Some of the constructional work (furnature and regulation of climbers and creepers) on the site, such as unsealing the asphalt surfaces and removal of stone garden (gravel) to make place for green areas, (the new moduls as Extension of the existing timber panels for the climbing plants has been carried out by the team members on site.

The simple and cost-effective irrigation system will be managed by team members/employees of the company.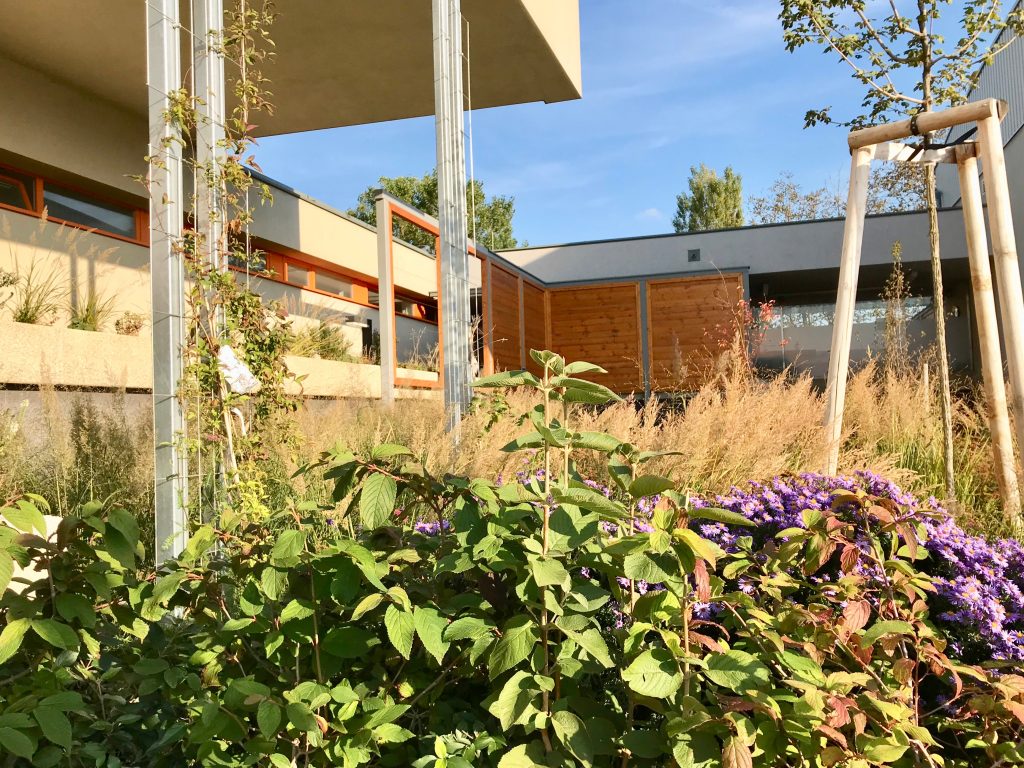 Promoting biodiversity
– Improving the biodiversity by the choose of endemic plants (birds-insect-plant interactions)
– Experimenting with plant species that are resistant to climate change. (Resistant to drought and extreme weather conditions.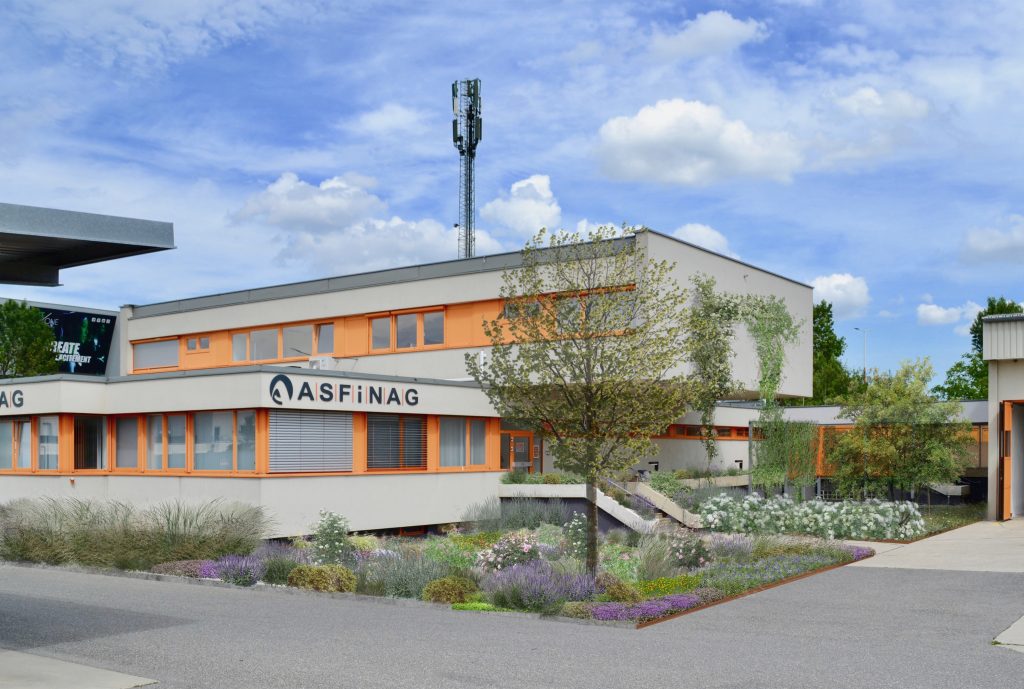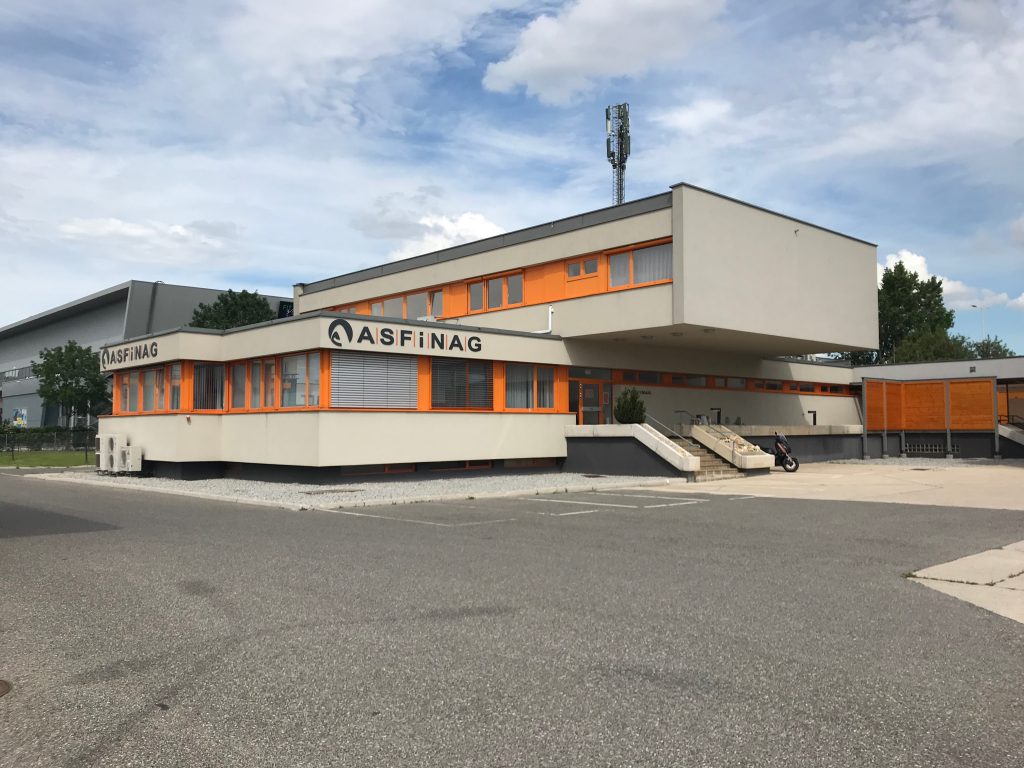 Auftraggeberin: ASFINAG
Planungsperiode: 2020 (Mai bis Oktober)
Umsetzung: März 2021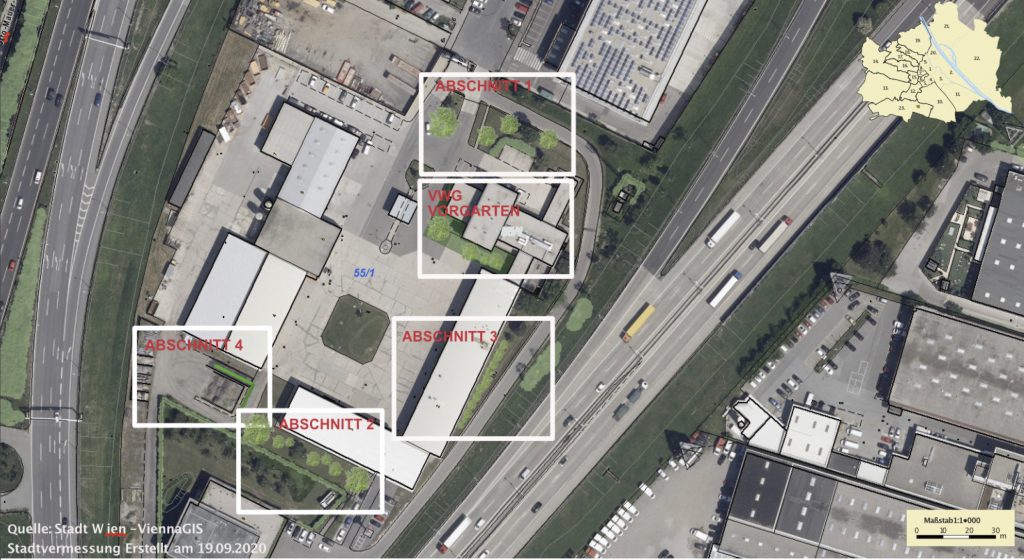 Methode:
Beteiligung basierte Planung:
Planung mit MitarbeiterInnender ABM und Anbindung der Grünraum-Expertinnen der ASFINAG und Bauabteilung Ost
Begrünungsart:
Unterschiedliche Umgestaltungsmaßnahmen der Außenräume wurden implementiert :
Tausende Trockenheit resistente und autochthone Pflanzen für die neu entstehenden Rabatte und Zwischenräume; möglichst Klimawandel beständige Baumbepflanzungen; großflächige Entsiegelungen im Hofbereich sowie Aktivierung der bestehenden Pflanzentröge durch Kräuter und Stauden.
Überdachung und grüne Beschattung durch heimische Kletterpflanzen für die Pausenräume der Mitarbeiter sowie essbare Pflanzen wie Beeren, Weinrebe und heimische Obstbäume
Erdgebundene Fassadenbegrünung zur Verschattung des Bürotraktes
Begrünungsmaßnahmen auch für Schallschutz und Luftreinigung für den gesamten Standort, der zwischen den Autobahnen liegt
Bepflanzungsplan des Bürotraktes